Queue poles
Stainless steel cordon posts for indoor or outdoor use. Perfect for restaurants, bars, hotels, etc.
Rope for the posts is available in different colours under Decorative rope. Fittings for the ropes are sold separately in polished brass or chrome under Rope fittings and poles.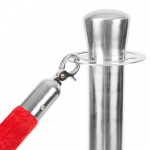 End fitting with piston hank
End fitting with piston hank. Attached to the decorative rope, for example for use in cordoning off and queue management.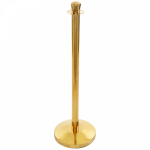 Queue pole with base plate, brass
Queue poles with base plate in polished brass finish, for cordoning off or to help with queue management. Can be combined with o...