Glass roofs
Complete glass roofs for installation over entrances and small verandas.
We have put together finished packages with all the parts you need, in various widths to suit the vast majority of purposes. If you prefer to order a customised roof or individual parts, you are welcome to contact us.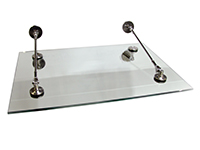 Glass roof, complete
Complete glass roof with struts in polished stainless steel (AISI 316). Contains glass with measurements 1400 x 1000 mm, 3 strut...