Dyneema rope
Dyneema is an extremely lightweight rope that combines high strength and low elongation. In fact, there is no other rope with a higher breaking strength relative to its weight.
As it can withstand high loads, it is perfect as a replacement for wire.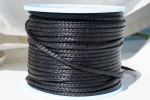 Dyneema D-Pro-XTR (3-10 mm)
Extremely strong rope that can replace cable.D-Pro-XTR is a 12-braided rope in high-strength Dyneema that gives the best breakin...